Description
A true classic among sports equipment
NOHrD WallBars' unparalleled feature: the foldout function.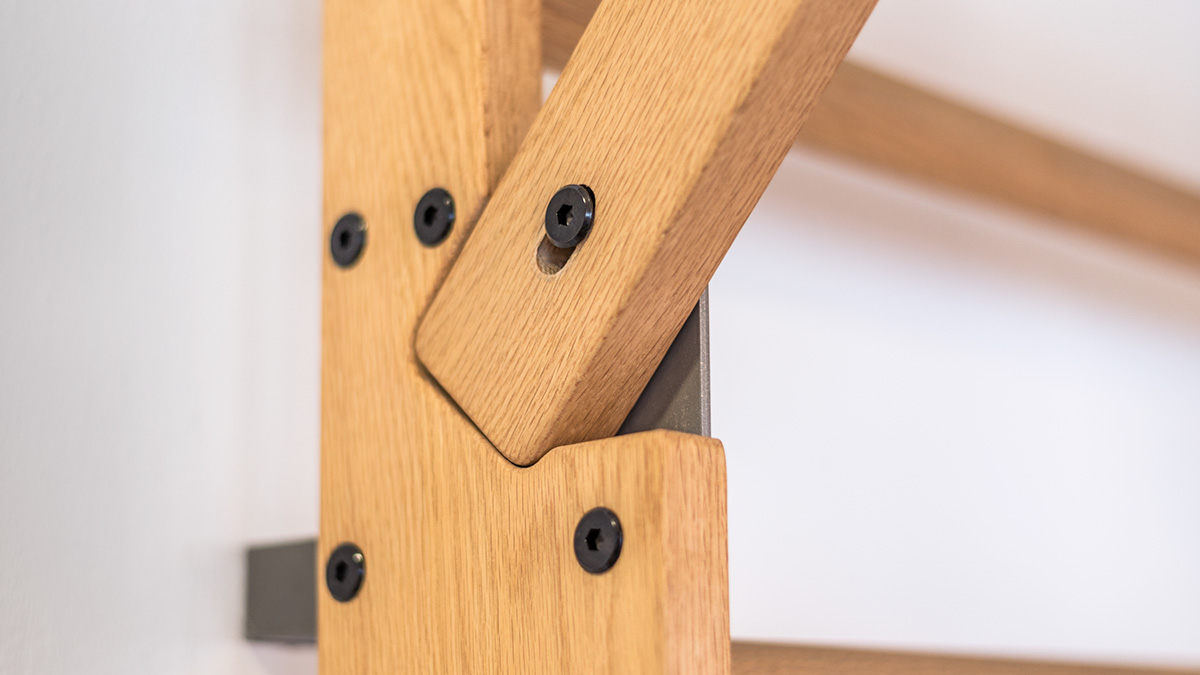 Integrated Foldout Bar
Use the WallBars' sturdy foldout bar for pull-ups, simple hanging or swinging your body. The bar piece is easy to open and engages with a distinct click.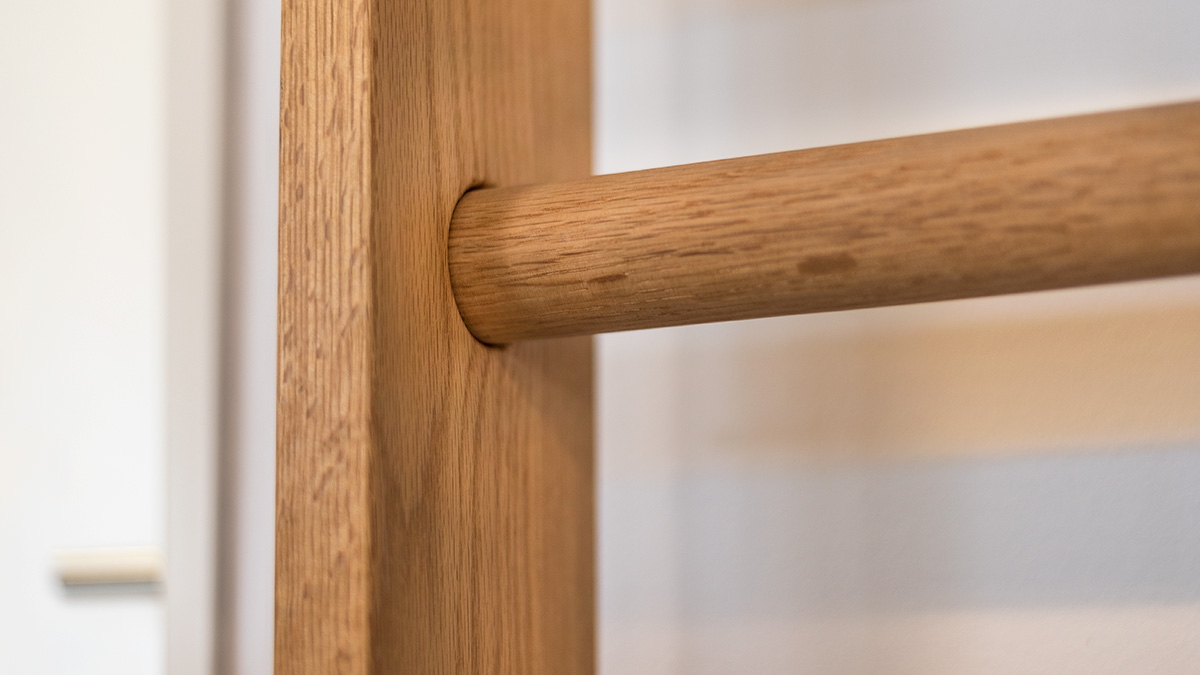 Choose between 10 or 14 Rungs
Different walls for different needs: the NOHrD WallBars is available in two sizes of either 10 or 14 rungs. The space between bars varies from 10 to 18 cm respectively.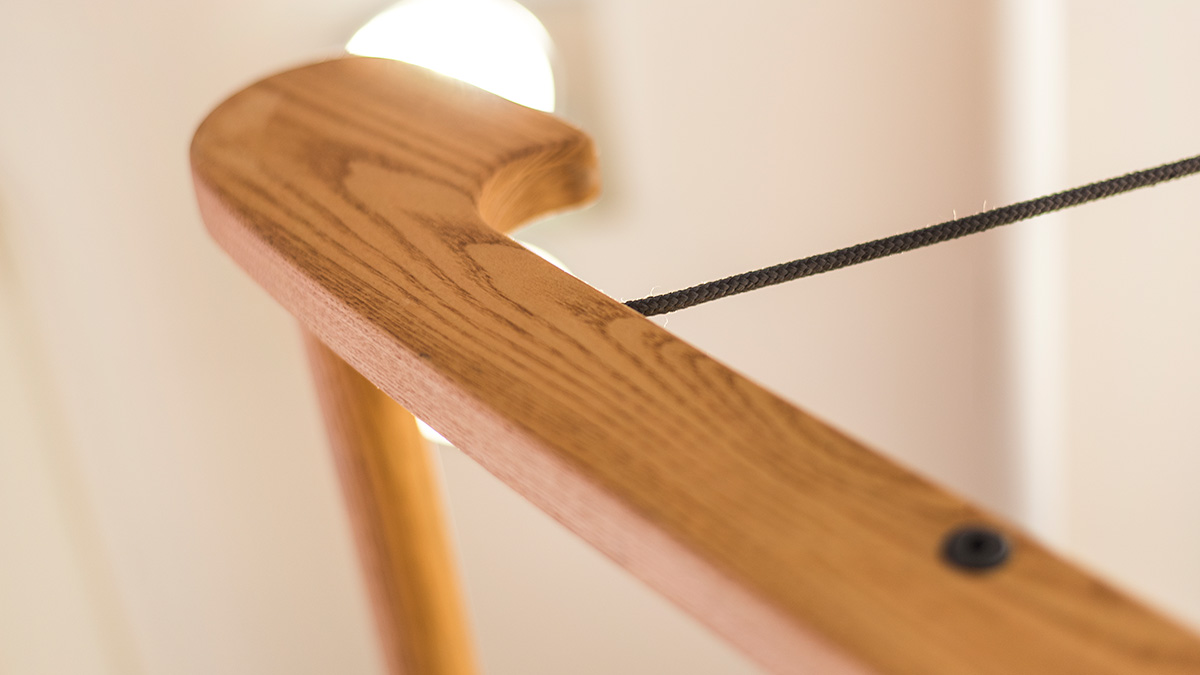 Safe and Sturdy
Solid wood, strongest safety cords for the foldout bar and additional wall fixture pieces make the WallBars a safe and sturdy piece of multi-functional exercise equipment.
---
Highest Quality, Solid Wood
NOHrD WallBars are manufactured in solid ash, oak, cherry and walnut wood.
Ash

Oak

Club

Cherry

Walnut
Optional Accessories
Convert your WallBars into a multi-functional exercise training station with additional accessories.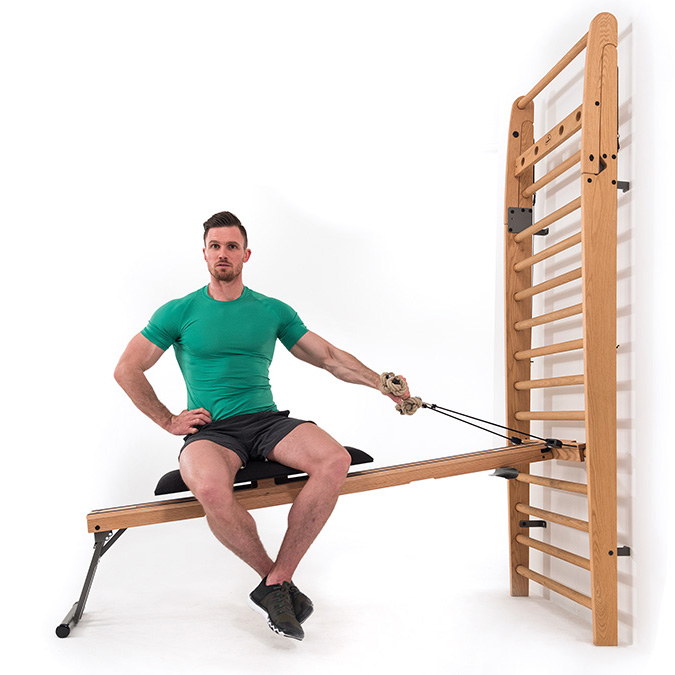 CombiTrainer
The CombiTrainer considerably extends the range of exercise possibilities on the WallBars - using bodyweight resistance only.
CombiTrainer
The CombiTrainer effectively works all muscle groups thanks to variable sitting and prone positions.
Regardless of body position, you will exercise against your own bodyweight, pulling the cables along ball bearing pulleys and with the bench gliding smoothly back and forth.
- dimensions: approx. 75'' x 24'' (l x w)
- lying surface: approx. 33'' x 14'' (l x w)
- features fold-out foot stand
- can be hooked in at various heights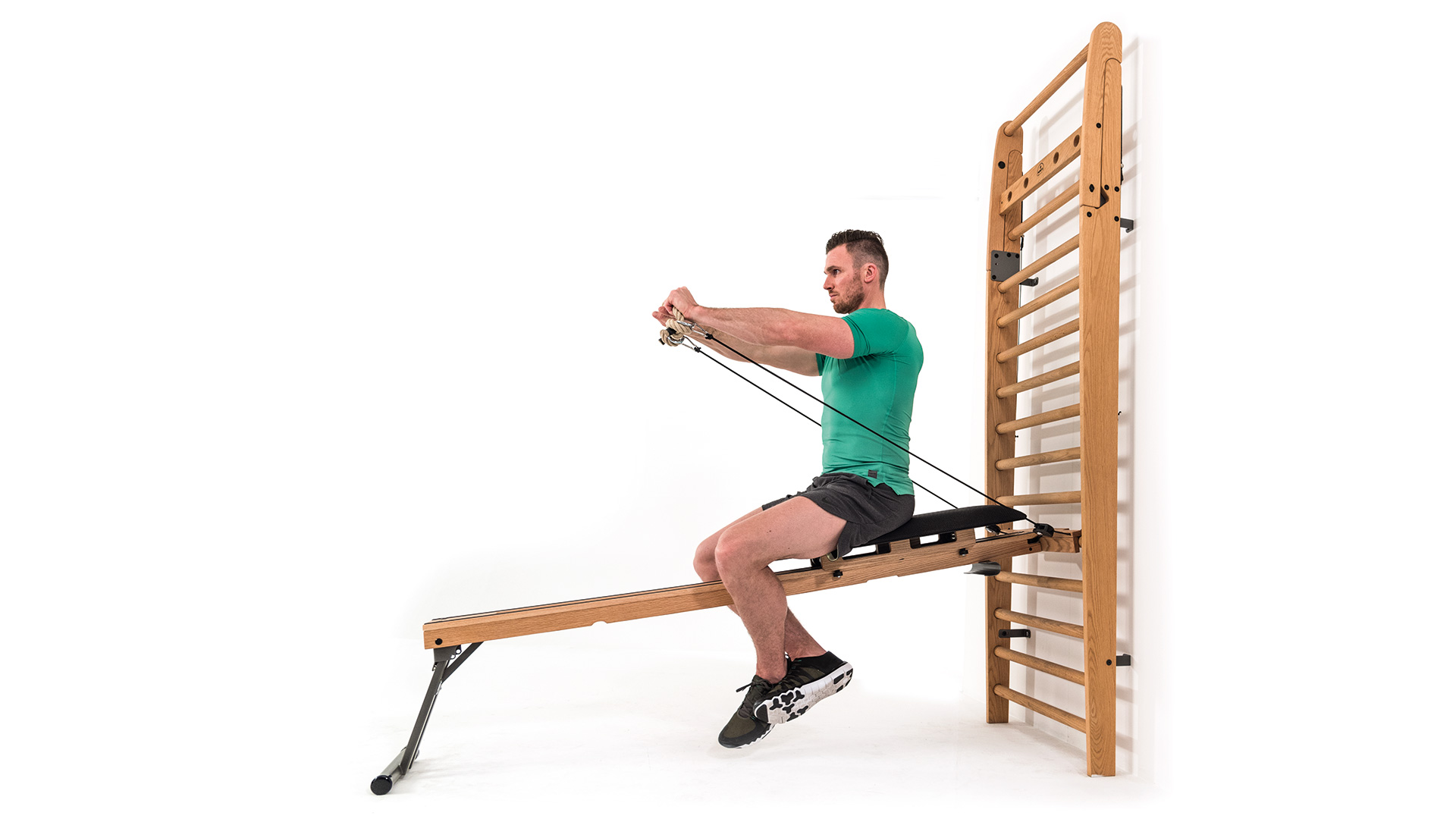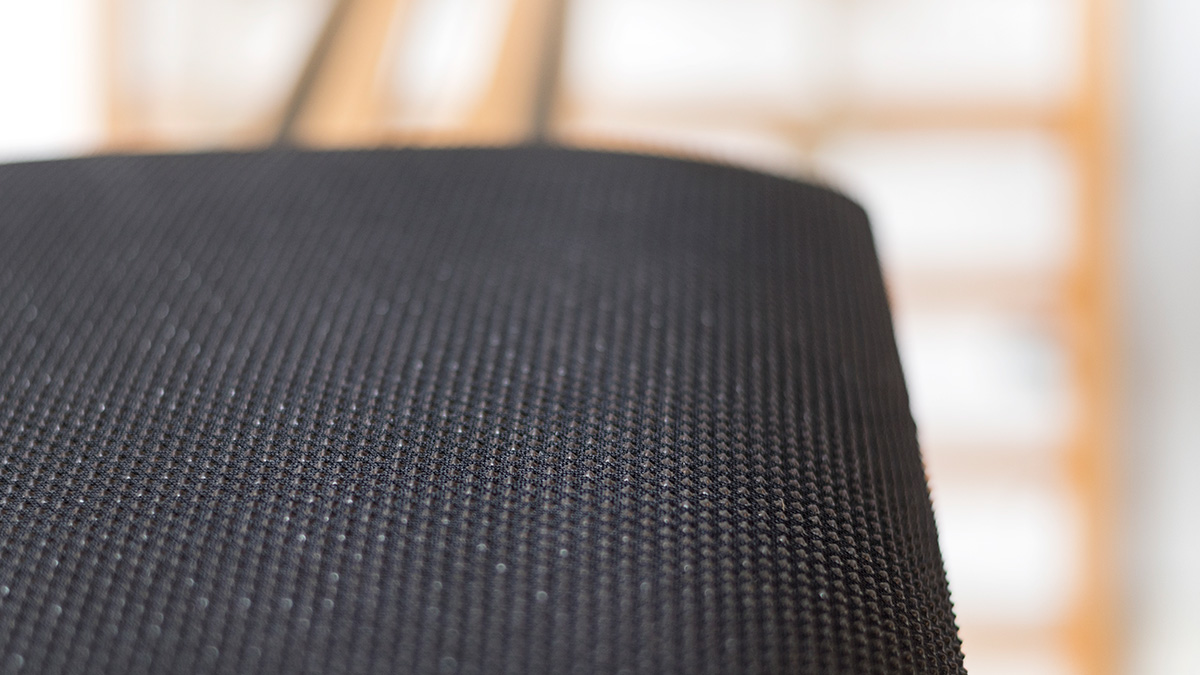 Non - Slip
The CombiTrainer's bench is upholstered with a special, nub fabric to prevent slipping and guarantee a strong-hold during exercise.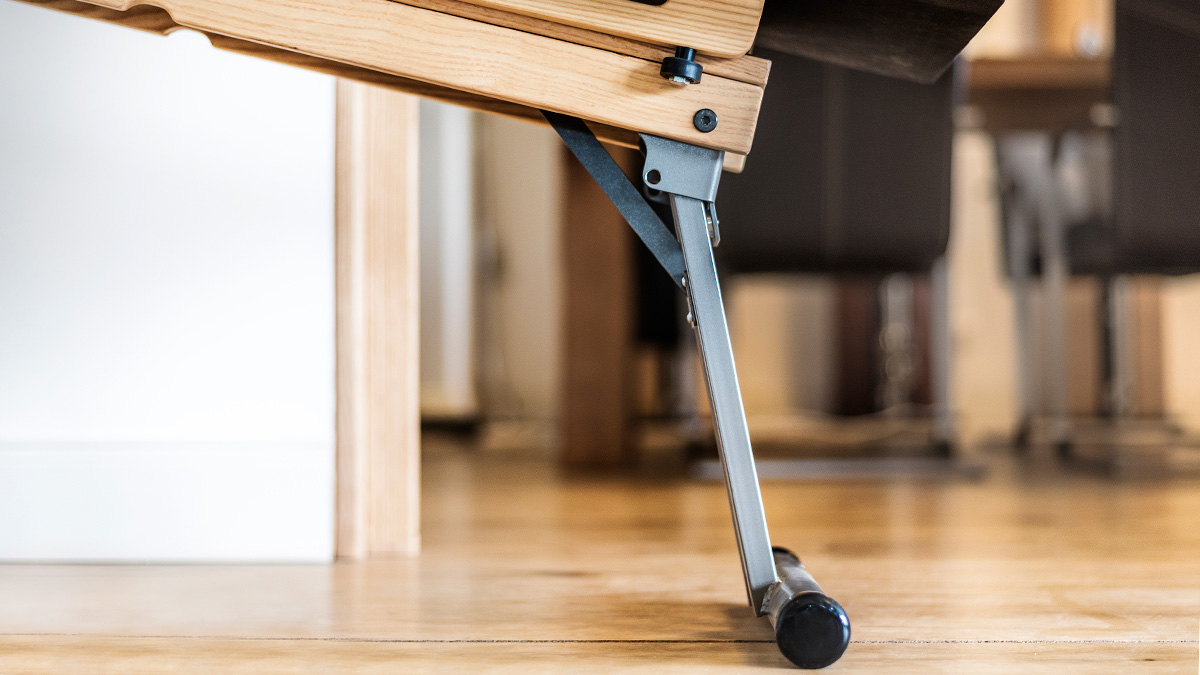 Strong Stand
The CombiTrainer holds strong and sturdy thanks to its fold-out foot stand. Simply hook the CombiTrainer into the rung of your choice for a variety of angles to exercise at.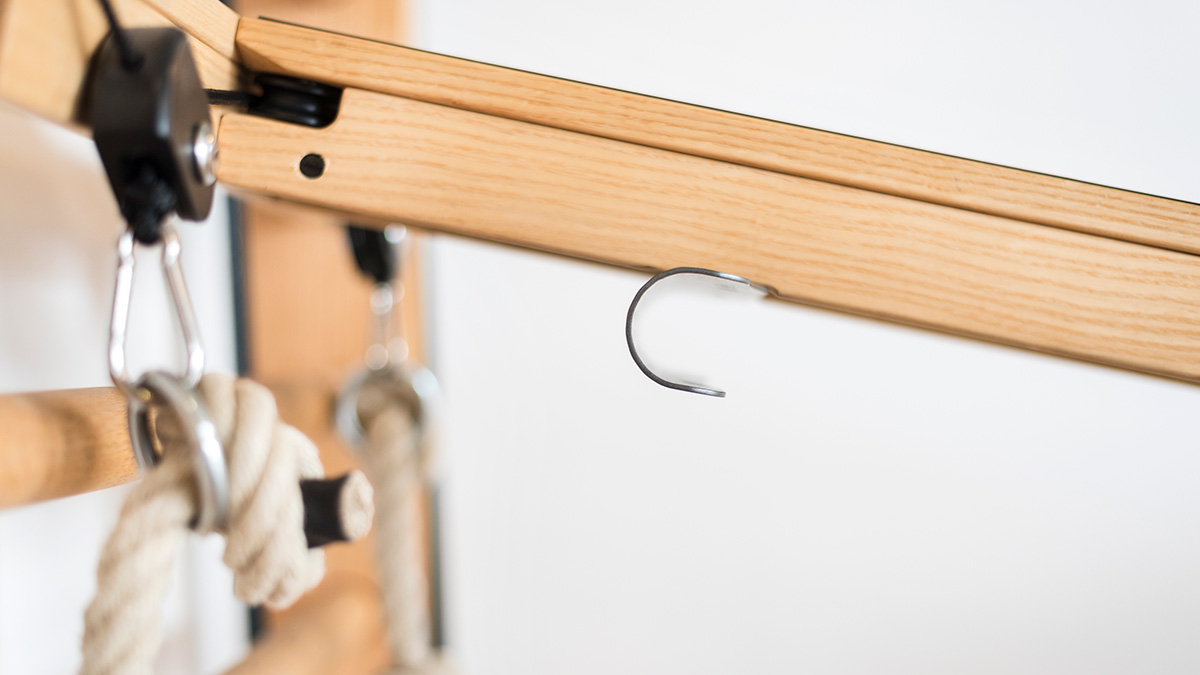 High-Quality
The CombiTrainer is made of solid wood. The cable ropes can be gripped easily and the CombiTrainer can be hung into the WallBars after your workout for storage.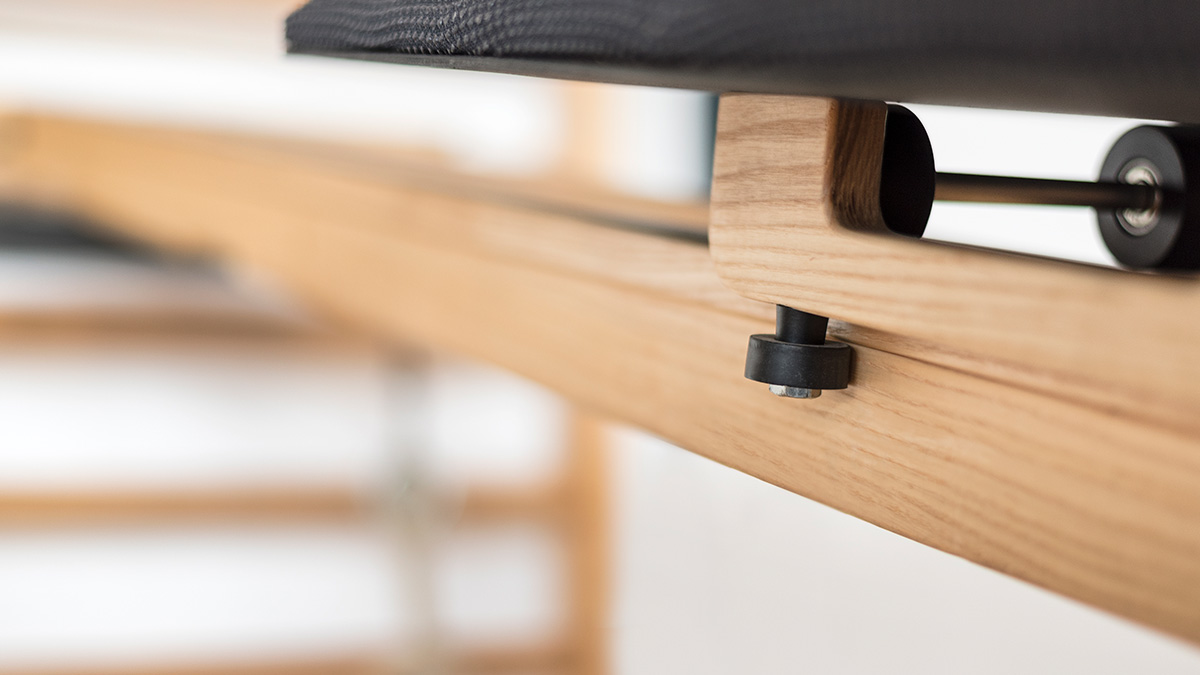 Quiet yet Powerful
The guide rollers of the CombiTrainer bench surface glide quietly along the rails, providing excellent support. No weights to adjust- train using body resistance only.
Multi-Adapter
The MultiAdapter is a single piece accessory with two functions.
The MultiAdapter is an ideal accessory, developed from a simple, basic idea and providing a whole range of new exercises. Hook into any rung for use the handlebars for triceps dips or turn over for the horizontal bar to fold out. Both options will let you add specific exercises to complete your workout.
- dimensions: approx. 28'' x 20'' x 13'' (W x D x H)
- weight: approx. 12 kg
- made of metal and wood
- can be hung into rung of your choice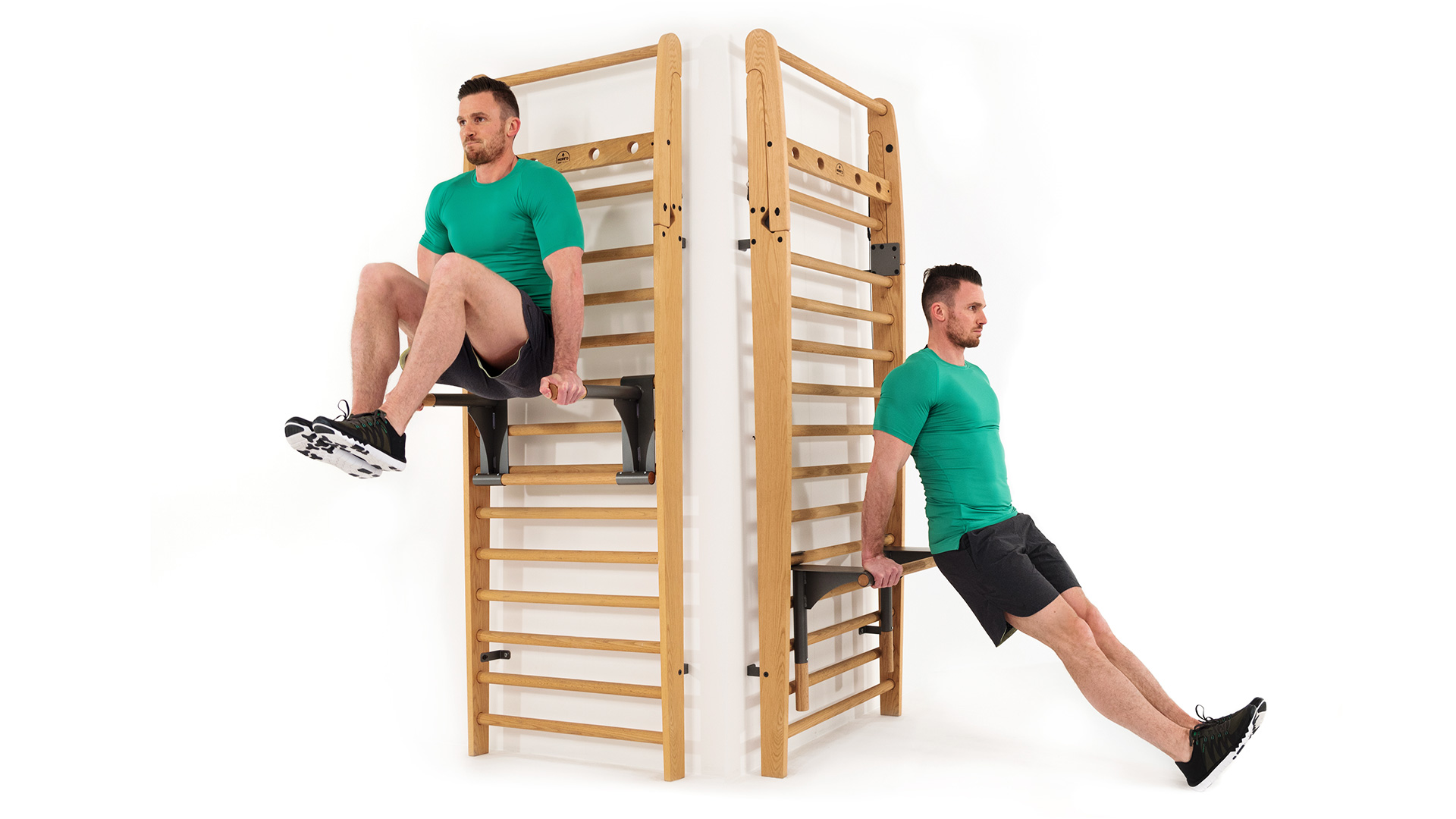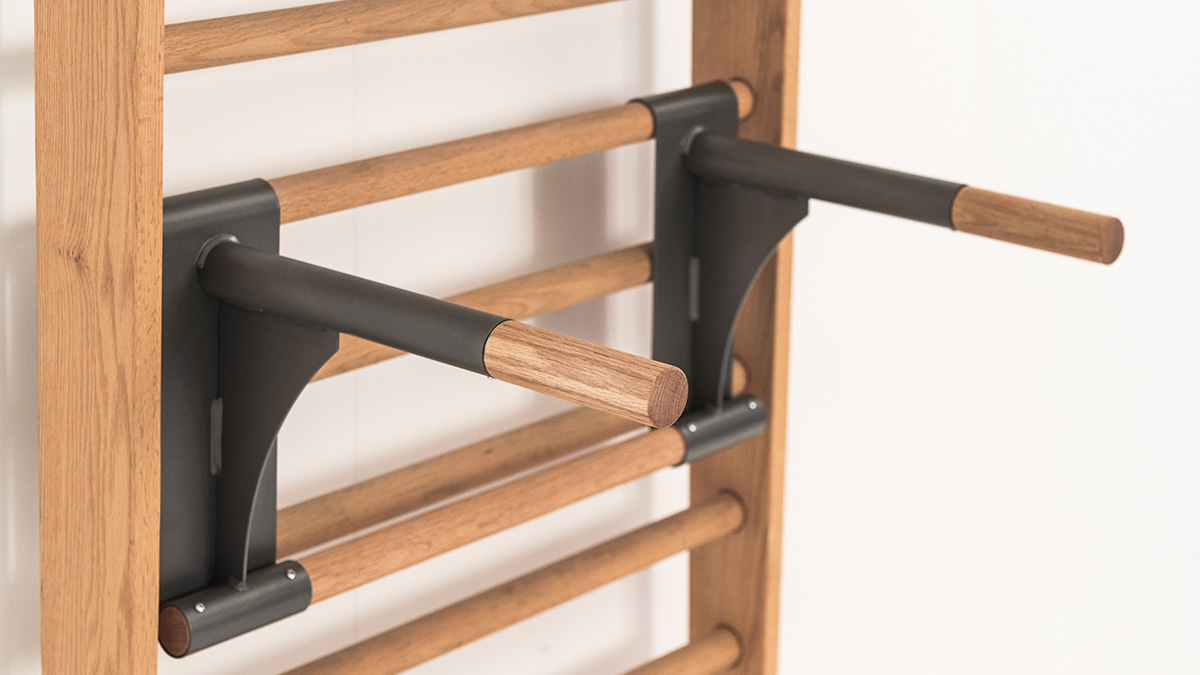 High-Quality Workmanship
The MultiAdapter is made of high-grade wood and solid metal, ensuring our renowned quality and precision workmanship.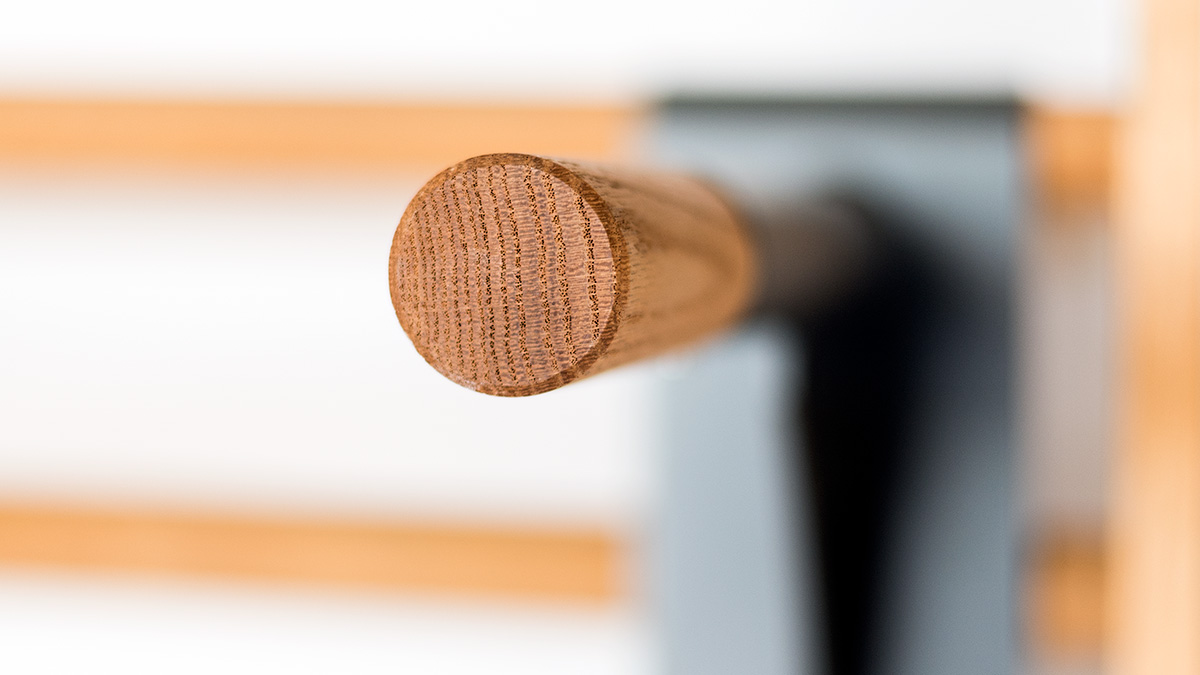 Guaranteed Stability
Stronghold and guaranteed stability. The natural wood grain provides a comfortable, safe grip.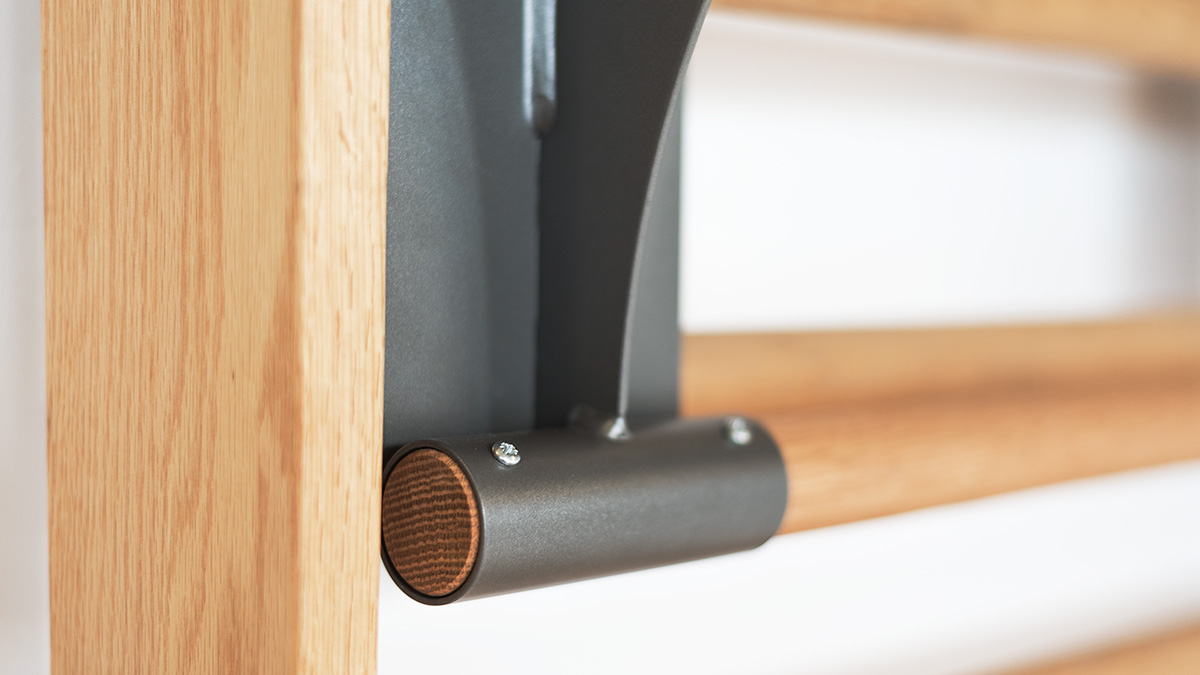 Sleek Design
Sophisticated, eye-catching design - this combination of wood and metal will fit any interior environment.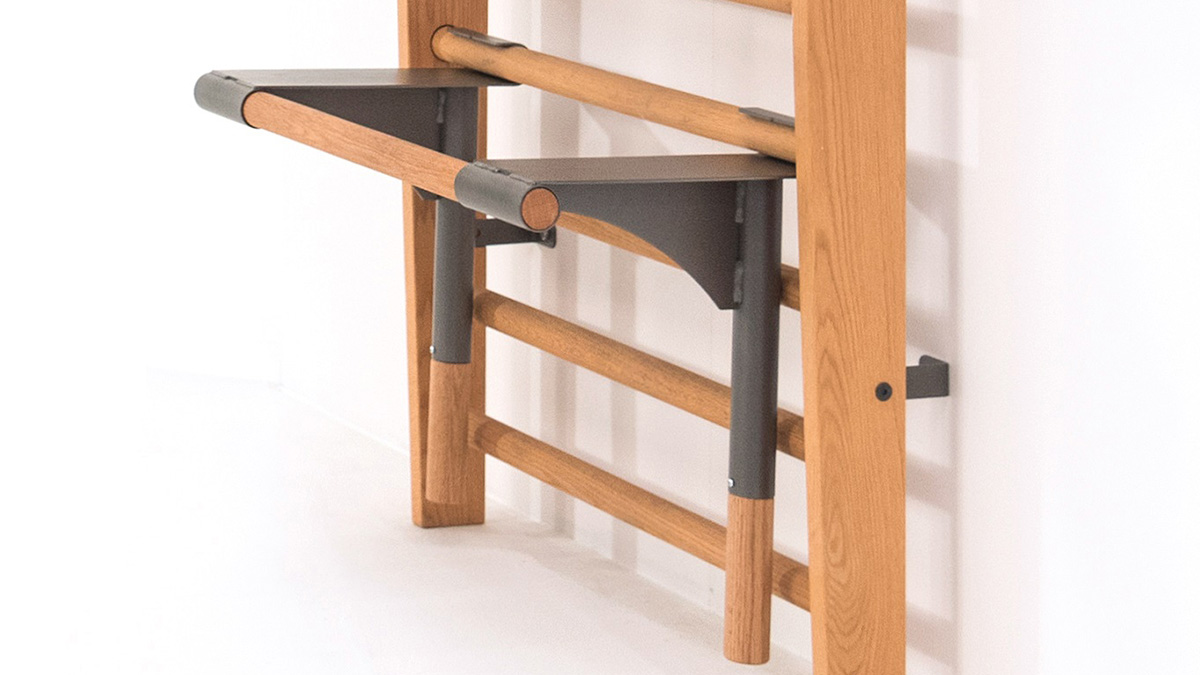 Range of Use
More than just an attractive design: Train with on the MultiAdapter for a whole range of further, specific exercises targeting all muscle groups.
Workout Bench
Simply hang into the rung of your choice.
The WallBars bench is a workout bench and back support in one. By hanging the bench into various rungs, you will expand your exercise routine. Simply store this sleek accessory directly onto the WallBars, post workout.
- dimensions: approx. 54'' x 13'' (L x W)
- made of black stained wood and genuine leather
- can be hung at varying heights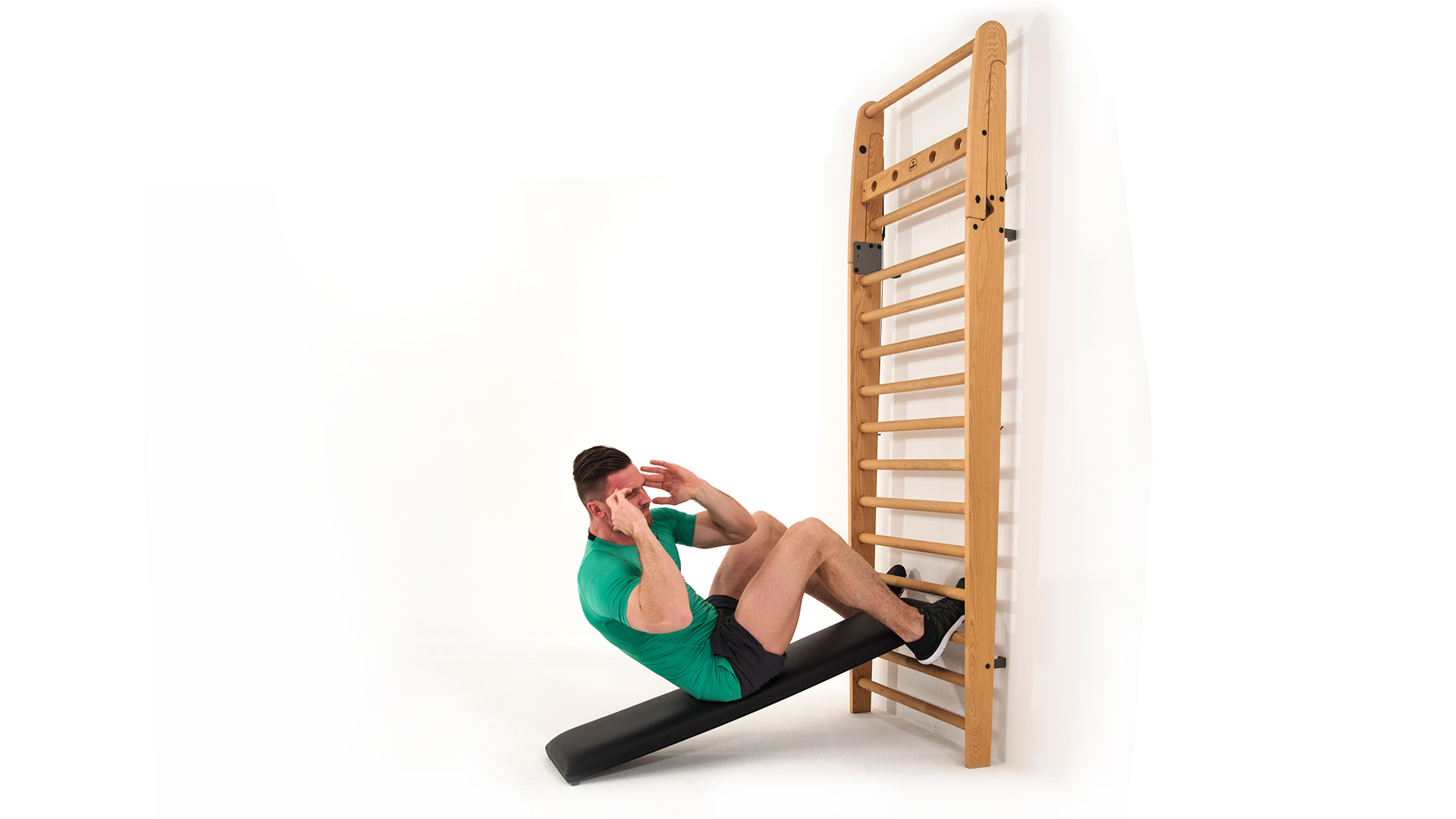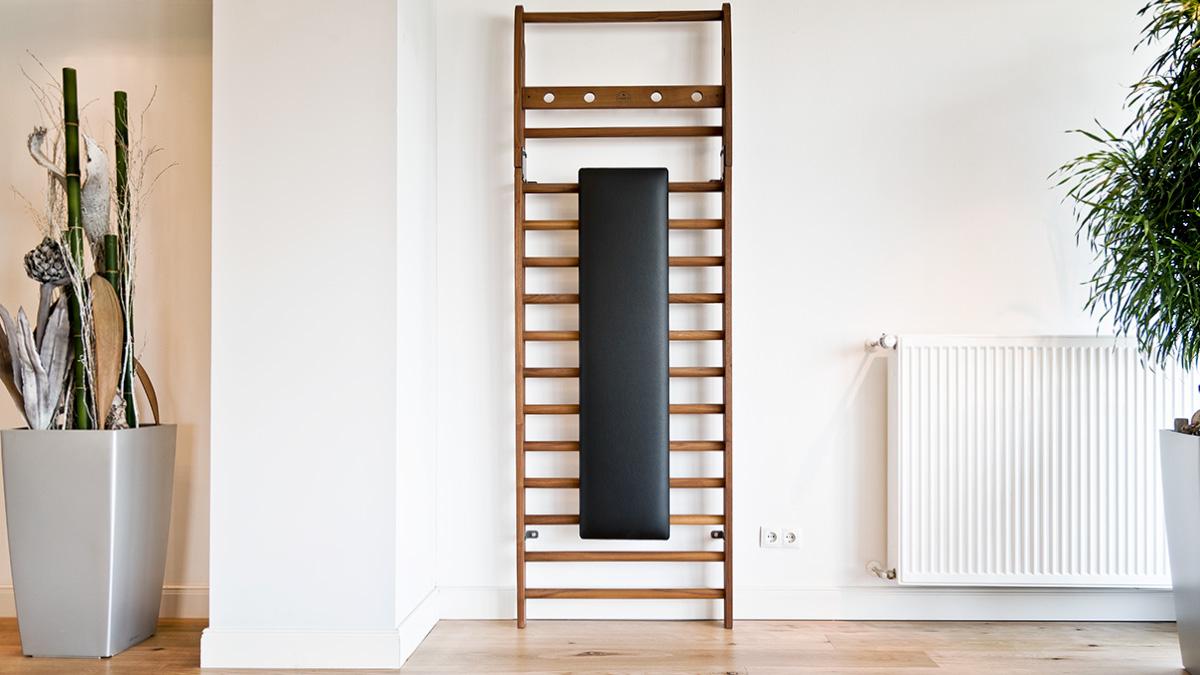 Space-Saver
Not only a useful workout accessory - the WallBars bench can be hung directly into the rungs for easy storage.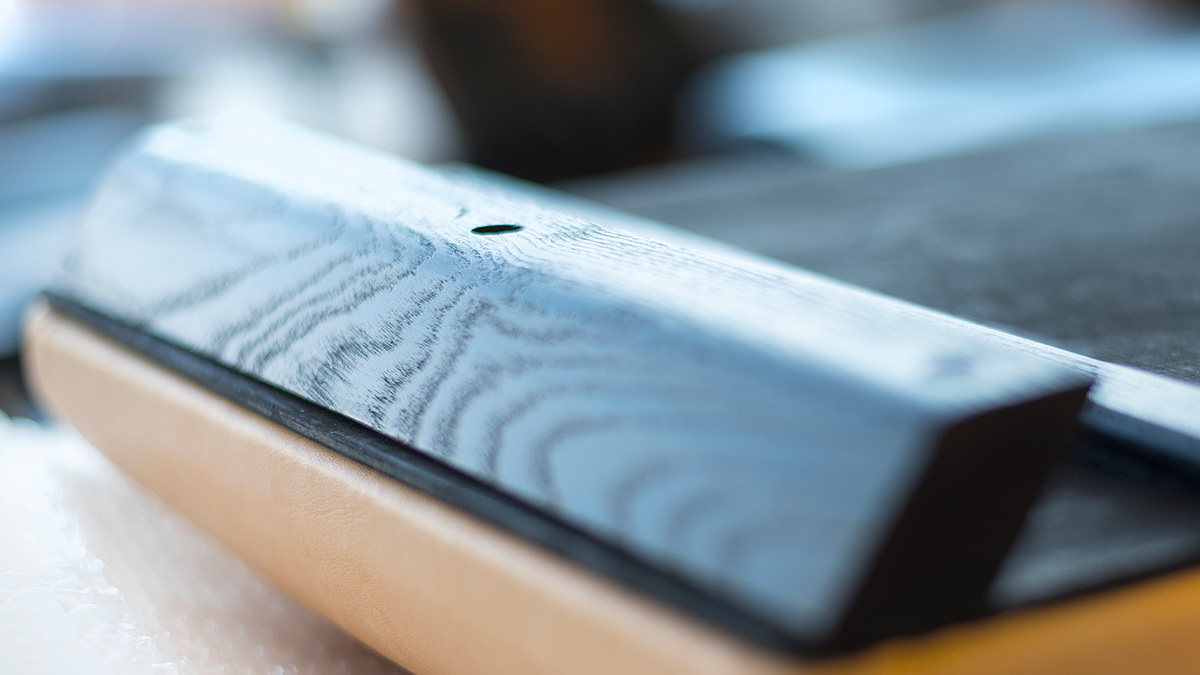 Quality & Design
Solid wood and hard-wearing leather: the workout bench is a perfect combination of these two materials.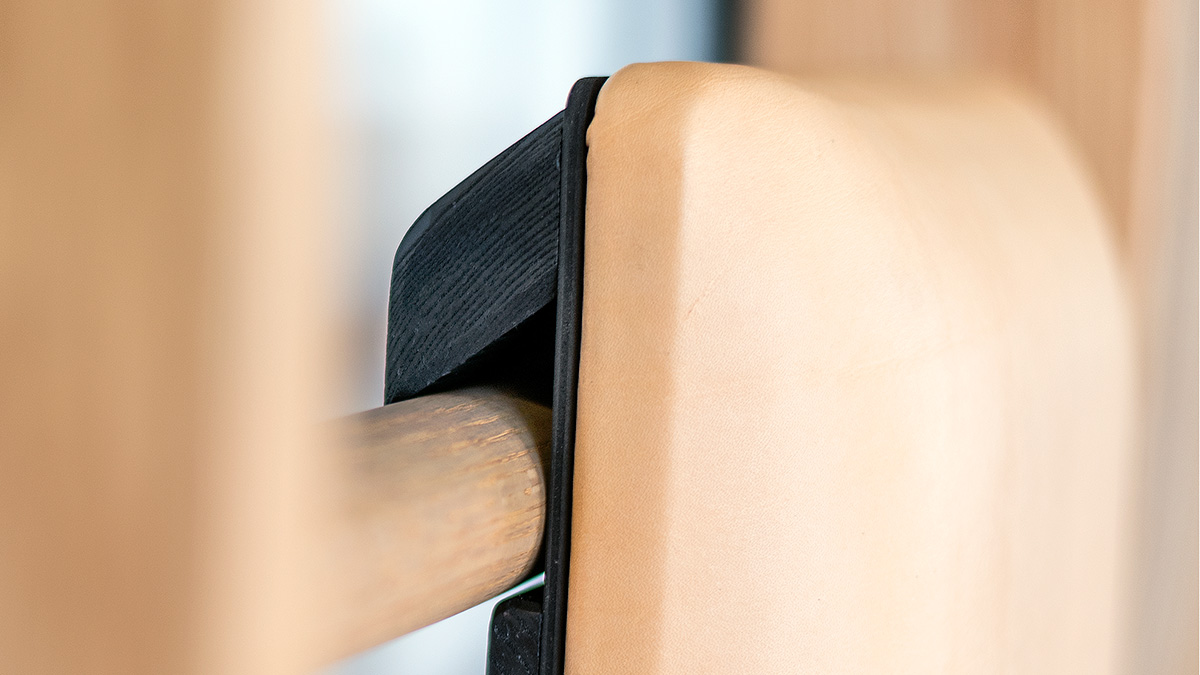 Precision Handcraft
Each workout bench is made with precision handwork and tested for durability - true custom work with the label "Made in Germany".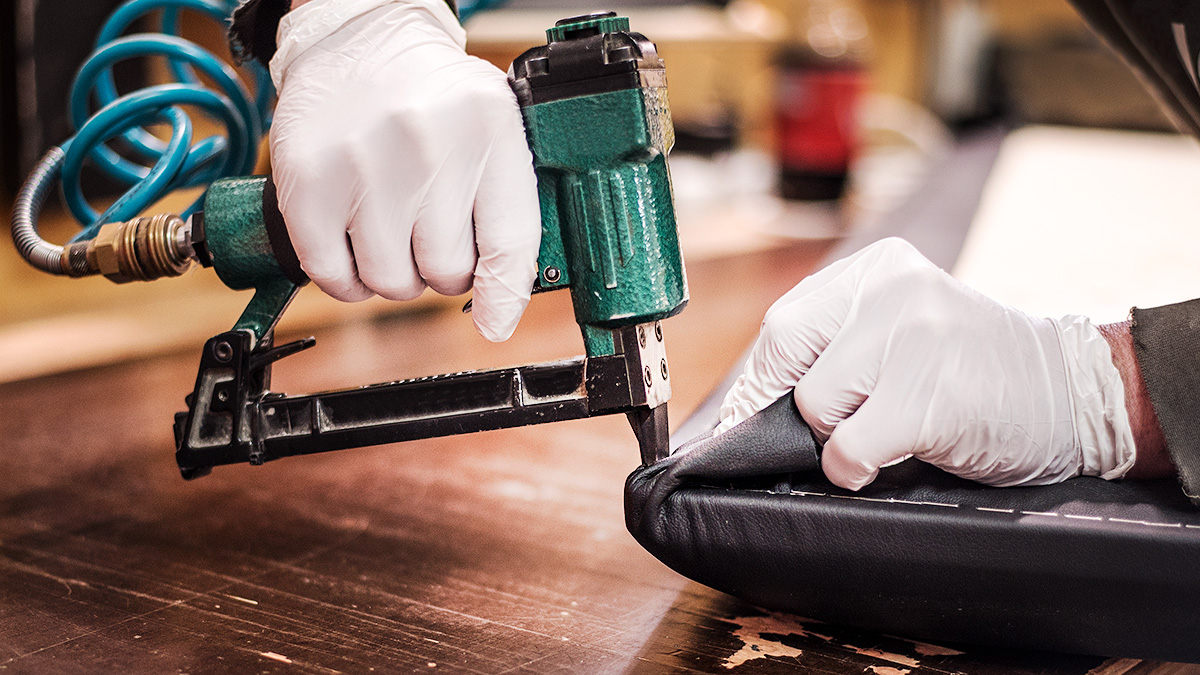 Genuine Leather
Handworked natural leather from Germany provides each workout bench with a special character; the WallBars is can be freely combined with each leather!
Shipping Info
Orders and Deliveries
Your order may take longer to arrive than usual. We're experiencing significant delays in NSW due to shipping delays, local courier backlogs and increased volumes. Delays for dispatch and delivery may occur. We provide tracking information for your order, however, we have no control over the process/timeframe of delivery once the order has been dispatched from our 
.
Unfortunately we have no control over this situation and while we try our best to get updates for our customers we don't have access to any more information until orders we get updates from the courier companies themselves.
.
Items IN-STOCK: 
The estimated dispatch time frame is approximately 3-14 business days from the date order is placed, and payment is received. Please note this is an estimated time frame only and that delays beyond this may occur due to circumstances outside of our control.
Please do contact us if you have any questions.
.
Items PRE-ORDERED: 
We can provide estimated dispatch time frames based on the most accurate information we have on-hand, however, please note that delays may occur due to circumstances outside of our control. We shall do our best to keep you informed. Please note that delivery time-frames may take by 2-3 weeks longer then specified ETAs at this time.

.
Regional and/or Remote Deliveries
If your delivery address is in a regional and/or remote area, additional surcharges may be incurred. Our logistics team will contact you about this if we deem your delivery address to be in a regional or remote area and discuss the delivery options and surcharges applicable.
Shipping FAQs
Q: Do you ship outside of Australia?
A: We only ship within Australia.
Q: How much is delivery?
A: Delivery for most items can be calculated using the websites shipping calculator. After you have added your items to the shopping cart, add your postcode into the shopping cart to initiate the shipping calculator, rates will then calculate here as you add/remove products.

Q: Why is the shipping calculator not working?
A: If you are not receiving a calculated shipping rate for your order, it is likely your order is either very heavy, large or to a regional/remote area of Australia. We can still deliver to your address; however, we just need to obtain a custom freight quote for you which can take between 1-3 business days. To get a custom freight quote, please contact us.
Q: What shipping methods do you have available?
A: We send small size items via Australian Post/Fastway and Bulky/heavy items are sent via a Freight Carrier service.
We also provide a same day/next day delivery service for items in stock in store, within a 5km radius of the store. Please contact the stores to get a same day/next day delivery quote. Excludes bulky items.
Q: What is Authority to Leave?
A: When a sender or receiver gives 'authority to leave' (ATL), they're giving the delivery driver permission to leave the parcel at the delivery address without a signature when the parcel is delivered (as long as it's safe to do so). All orders are automatically assigned authority to leave unless instructed otherwise.
Q: Why should I provide Authority to Leave?
This is the best way to allow for contactless delivery, which is safe for yourself and the delivery person too. 
The other benefit of delivering orders with authority to leave is that the parcel will almost always be delivered on the first attempt. This means you won't have to organise a redelivery and pay the re-delivery fee or collect the order from a local collection point.
 
Q: Do you allow pick up from your showrooms?
A: Yes, you can pick up from our both our showrooms. Online orders can take 1-2 days to be processed, it is best to call us prior to your arrival so we can have your item ready for you.
B:  With large orders, we need prior notice to prepare orders, especially if you are sending your own transport to pick up, as it takes time to pack everything onto pallets and wrap, normally 24 hours prior notice is required.
 
Q: How long will it take to have my order delivered?
A: We will dispatch your order from our warehouse within 1-5 business days (depending on weight/size) upon clearance of your payment and confirmation of delivery address. The day your order is dispatched, we will email you the tracking number and the courier company's phone number so you can contact them to find out the approximate delivery time. Lead time varies as per the destination. At any stage, you can call 1800 817 418 and our friendly staff will inform you of your order status.
We cannot advise the exact day and time delivery will occur , however we will email you the tracking details and the freight company contact details and they can provide you a better estimation of the time. (Excludes Sydney Metro deliveries via Capital couriers)
 
Q: Can my order be delivered in the weekend?
A: Unfortunately, the courier companies do not deliver on weekends or on public holidays.
Q: What if my order weighs more than 250kg?
A: If you require delivery to a residential address and your order contains any single boxed items over 50kg, or combination of heavy/large items : (over 250kg), a tail lift service will likely be required and costs $149. The tail lift charge is not included in the shipping calculator on this website and needs to be added to the total if the service is required. Please contact us if you are unsure whether this service will be required for your order.

The following situations can be exempt from tail lift charges:
Deliveries to Sydney addresses where the receiver can organise manual unload.
Deliveries to business addresses with forklift access.
Deliveries to local depots for customer pick up, please ask us for the closest depot if you are in a regional/remote area.
An order to a residential address weighing up to 250kg, where no single boxed item exceeds 50kg.
Q: What is a tail lift?
A: A Tail lift is a mechanical device permanently fitted to the back of a delivery truck. It is used to lift heavy items on and off the truck when a forklift is not available.
Please note: Sometimes in the event that a tail lift truck is not available, the freight carrier will hand unload the heavy items off the truck. Hand unload by the freight carrier is covered by the tail lift surcharge if the tail lift service is not available.

Q: If I am not home can my order be left at my address?
A: Yes, providing your order is under 250kg. when checking out, please provide your instructions in the 'Order Instructions' field to leave your order in a specific place e.g. 'Please leave around the back of house behind the bins'. 
If goods can't be left at your location (drivers discretion) they will be taken back to the nearest depot where you will need to collect goods at your convenience. Resending goods will incur extra delivery charges.
To prevent paying re-delivery fees, extra delivery charges etc. please ensure you provide us with special delivery instructions. 
Q: What if items are missing from my order?
Short delivery:  If your order is over 22kg and under 250kg it is possible that the items have been sent via a courier in loose boxes. Occasionally the courier may deliver the items in different batches.  E.G If you order ten items and you receive only eight, then the delivery is short (of two items) = short delivery. The courier will then deliver the remaining items in the next 1-3 business days.
Out of stock items: Occasionally, some items may be temporarily out of stock and will be delivered at a later date as a back order, however, you will usually be notified of this prior to despatch.

If you believe you are missing any boxes or items after carefully checking and opening everything you have received, (multiple items may be combined in one box), please check your invoice and courier delivery dockets to confirm.
Any claims for missing items must be made within 7 days of receiving your order (no exceptions) so that we can investigate whether it was a warehouse despatch error or items have been temporarily lost in transit. The sooner we are notified, the better chance we have of resolving missing items.
Payment & Security
Your payment information is processed securely. We do not store credit card details nor have access to your credit card information.